PLEASE READ ALL OF THE BELOW BEFORE SENDING AN EMAIL REGARDING YOUR ORDER
BECAUSE OF HIGH VOLUME PREORDER ITEMS TAKE 5-7 WEEKS TO SHIP!
SIZE CHART
Unless otherwise noted tees are UNISEX 100% cotton jersey.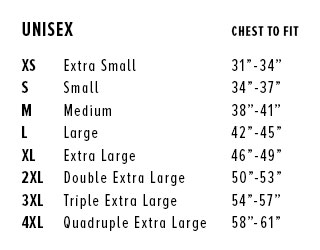 ORDER STATUS
Please check section on shipping time before sending any emails. Please only email about the status of your order after the allotted times mentioned has passed. Email using the provided email address or using the contact form on the CONTACT page.
SHIPPING TIME
Please keep in mind that this business is solely run by one person. Orders are shipped in the order that they are received & based on inventory.

Please allow 5-7 weeks for all preorder items in US, longer for international orders for items to be processed and shipped. Most orders (that are not preorder only) ship within or less than 2 weeks. All orders will receive tracking information (tracking number) once item is shipped and are sent through USPS (United States Postal Service). International orders will not have tracking information but customer will be notified when item has shipped. All shipments receive tracking-numbers and are mailed through the United States Postal Service (USPS).
If you need your order is time sensitive and is needed sooner than the 2 weeks for regular orders, please send an email me using the contact page to inquire. Include 'RUSH ORDER' in the subject line. Though not always the case, additional fees may apply. Rush orders are not guaranteed. Preorder only items can not be rushed.
I am NOT is not responsible for lost or stolen packages (including labels not scanned by USPS).
You will NOT be refunded or sent new items for lost/undelivered or stolen packages.
DELIVERY INFORMATION
It is the Customer's responsibility to ensure that all shipping info is correct before submitting a final order.
I am not responsible for packages that are undelivered or mis-delivered, provided that the shipping address is correct on the order invoice.
Returned packages that are undeliverable or mis-delivered for incorrect address can be re-shipped for a reshipment fee equal to the amount of the original shipping fee, paid by the customer before the item(s) is re-shipped. Payments accepted through PayPal, Venmo and CashApp.
Shipping charges will not be refunded for customers who place more than one order in one day. Orders will ship together.
RETURNS/EXCHANGES + REFUNDS/CANCELLATIONS
For any reason you need to cancel, orders may be cancelled for full refund within 24 hours after purchase ONLY. Attempting to cancel orders after 24 hours will not be honored.

To request a cancellation please email using the contact page with the order number from your receipt.
It is the Customer's responsibility to ensure that all shipping info is correct before submitting a final order.
If you have made a mistake in shipping information please email using the contact page to make changes. Do so within 48 hours. Orders will not be refunded for incorrect information provided by customer.